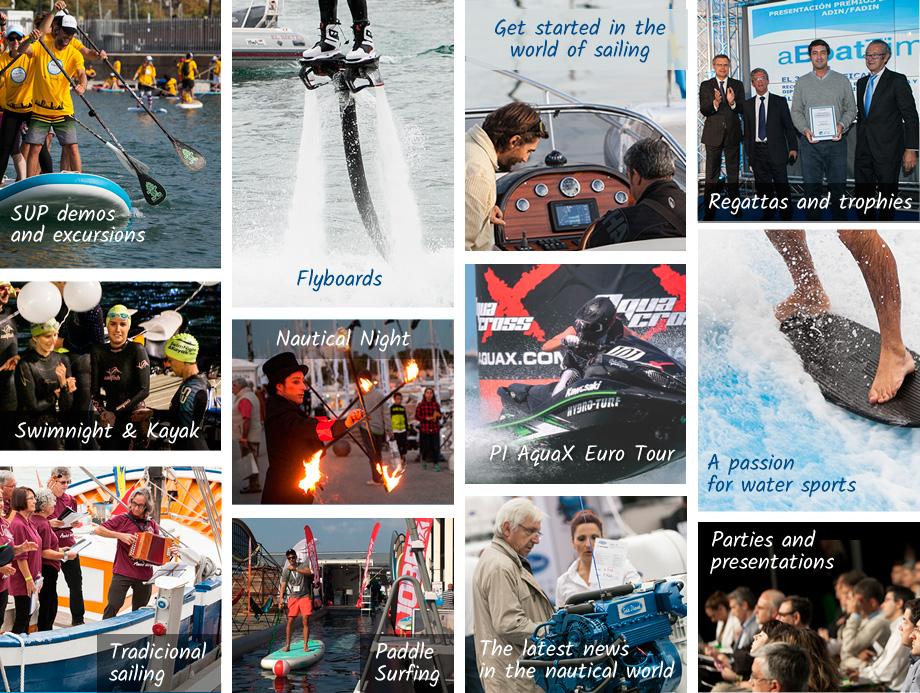 SUP demos and excursions
Practice Stand-Up Paddle boarding (SUP), the most popular sport on half the world's beaches. You can also take part in the III Barcelona SUP Festival on 15 October.
Flyboard Convention
Enjoy some spectacular exhibitions of this on-trend gadget which enables users to fly up to 7 metres above the surface of the sea.
Get started in the world of sailing
One of the main objectives of the Boat Show since its beginnings has been to popularize and facilitate people's access to sailing. To this end, the event has produced a Towable Boats Guide featuring information on sailing qualifications, sailing schools, a census of slipways, etc.
Regattas and trophies
The presentation of major regattas and trophies, including the Salt Route, Melilla Nàutica, the Euro Laser Masters Cup, the Atlantic Grand Prix, and many more.
Swimnight & Kayak
Discover this sport, in a first-time night-time session in Port Vell! It will consist of an exhibition by swimmers, escorted by kayaks, around a 2,500-metre circuit. The demonstration will take place as part of The Boat Show by Night, with live music on the pier.
Traditional sailing
An exhibition of traditional wooden boats, demonstrations of boat restoring and workshops of maritime trades, amongst other activities.
Nautical Night
Live music, performances and all kinds of activities will open up a different side of the show by night, with an exclusive atmosphere.
Go stand-up paddle surfing
Enjoy the trendiest sport in our swimming pool, new this edition.
P1 AquaX Euro Tour
CN El Balís is hosting the final round of the P1 AquaX Euro Tour on 14 and 15 October, coinciding with the Boat Show. More info: cnelbalis.com
The latest news in the nautical world
The "Espai del Mar" zone hosts conferences, talks by sailors, professional seminars, presentations of regattas and prize-giving ceremonies of trophies.
A passion for water sports
With lots of ideas for discovering and getting started in water sports: dinghy sailing, paddle surfing, canoeing or kayaking, amongst others.
Parties and presentations
Once again, the show will provide a venue for exhibitors to host parties and presentations to showcase their new products.
The first edition of Professional Meetings will feature free business meetings between professional visitors and exhibitors.
See all the latest in sports and recreational sailing, all types of craft of different lengths and a broad range of products, accessories and services.
What's new